Wednesday, August 11, 2010
4:13 PM |
Posted by Nick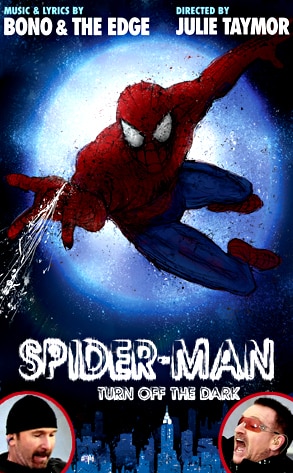 Spider-man has conquered numerous mediums in his forty plus years of existence. Comics, novels, television series, video games, and a blockbuster movie series, Marvel's favorite web slinger will soon travel to Broadway. The musical,
Spider-man: Turn off the Dark
, has drifted in and out of production for years. Originally schedule for release this year, the musical was put off after several of its actors walked out due to the numerous delays. However, it appears we will in fact be sining a singing Peter Parker this Holiday season.
The Los Angeles Times
reported today that the musical is currently set for a December 21. Tickets become availible in September.
Spider-man: Turn Off The Dark
is diected by Julie Taymor (Across the Universe, Frida) stars Reeve Carney as Peter Parker, Patrick Page as the Green Goblin, and Jennifer Damiano as Mary Jane Watson, and features music created by Bono and the Edge/
Labels:
Comics
,
Marvel
,
music
,
musical
,
Spider-Man
Blog Archive